Call for more information 562.354.3008
Urban Escape Customized Facial:
Customized to suit the needs of your skin. For any skin type or condition. Includes double cleanse with steam, skin analysis, exfoliation, extractions, facial massage, treatment masque. Ends with toning, moisturizing, and finishing treatments. Utilizes a variety AGE Smart®, MediBac Clearing®, UltraCalming™ and other Dermalogica® skin maintenance products.
60 min. $80 (Includes face, neck and chest/decollete)
90 min. $100 (Includes the above plus extended facial massage and hydrating foot wrap)
Rejuvenation Anti-Aging Facial:
Get powerful anti-aging skin repair with this multivitamin, peptide and multiple hydroxy acids skin care treatment formula. The active ingredients provide powerful anti-aging benefits that promote firmness & elasticity, optimal hydration, the smoothing of fine lines, and protection against free radicals. This skin treatment is ideal for mature, or prematurely-aging skin due over-exposure of UV sun rays. Partner with AGE Smart retail products for your home care regime.
60 min. $100; 90 min. $120
Clarifying Acne Facial:
Clarify and clear your adult acne by addressing the underlying factors. The key ingredient, salicylic acid, stimulates natural exfoliation, aids in clearing congested follicles, and soothes irritation & inflammation. This acne skin care treatment is ideal for moderate to severe breakouts as it helps control oil production and provides astringent properties for protection against bacteria and future breakouts. Partner with MediBac Clearing retail products for your home care regime. 60 min. $95; 90 min. $115

Enhancements:
Power Exfoliation– $15- A maximum strength exfoliant in a lipid base for optimal skin smoothness.
Acne Enzyme Exfoliation– $15- Non-abrasive, active fruit enzymes to help digest dead skin cells., leaving the skin smooth and refined.
Collagen– $15- Mask treatment that uses collagen protein to revitalize the skin, maintaining structure and strength.
Glycolic– $15- Alpha hydroxy acid exfoliant that lifts away dull, congested dead skin cells revealing a healthier more vibrant skin. Reduce signs of aging and environmental damage.
Pumpkin Enzyme– $15- Fruit enzymes combined with alpha hydroxy acids and botanical extracts to promote cell renewal.
Extensive Extractions– $15 (extends 15 min.)- Additional time for removal of debris from blemishes and impacted follicles.
Hydrating Foot Wrap– $10 (extends 15 min.)- Coconut oil is lightly massaged into the feet and then wrapped in steamed towels for added relaxation and pampering. May be added to any service.
Teen Clearing Facial – Pre-Teens & Adolescents:
Utilizing medicated ingredients and soothing botanicals, aimed at teen skin issues, to deliver real results. Includes, double cleanse with steam, skin analysis, exfoliation, extractions, treatment masque, toning, moisturizing and finishing treatments. 60 Min. $70 (Face only)

MicroZone Treatments:
A 20-minute service for in-between facials, for those on limited time or for treating only a specific area.
All services– $35
Flash Exfoliation
Resurface, smooth and brighten dull, lackluster skin.
Lip Renewal
Smooth, condition and restore flaky lips while softening fine lines.
Age Repair
Repair, revitalize and energize while fighting signs of aging.
Hand Repair
Hydrate dry, chapped hands with this moisture-packed, age-fighting
treatment.
Moisture Boost
Rehydrate and replenish dry skin with an intense moisture quench.
Blackhead Relief
Deep clean and purify oily skin to clear up congestion and blackheads.
Rapid Spot Clearing
Banish existing breakouts, expedite healing and soothe redness.
Oil Control
Deep clean and control oil with this texture smoothing, purifying treatment.
Men's Skin Fitness
Tackle issues specific to men with this deep-cleansing, calming and smoothing treatment.
Skin Soothing
Relieve redness and irritation with this cooling treatment for sensitized skin.
Eye Firm
Address dark circles, puffiness, visible lines and volume loss with this advanced treatment.
Eye Relief
Calm, soothe and hydrate tired eyes while minimizing sensitivity.

Back Facial:
Invigorating back treatment utilizing MediBac, UltraCalming or Grey segment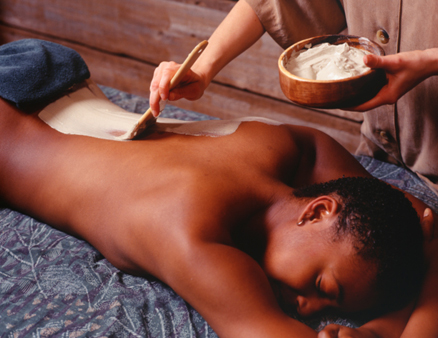 products. Includes double cleanse with steam, skin analysis, exfoliation, extractions, light massage and masque. Ends with toning and moisturizing. 60 Min. $85
Express Facial:
Customized segment products used for this condensed service. Includes double cleanse with steam, skin analysis, exfoliation, toning, moisturizer and simple finishing treatments.
30 Min. $50 (Face Only)
Bikini Facial:
Refreshing spa treatment for the bikini (vulva) area. Ideal service for between waxings or shaving. Helps with prevention and removal of ingrown hairs, will soothe irritated skin, and brighten darker areas. Includes double anti-bacterial cleanse with steam, skin analysis, exfoliation, extractions, masqueing and finishing treatment products.
45 Min. $45
Fanny Facial:
Soothing facial to relieve troubled skin specific to the buttock area. Helps with prevention and treatment of break outs that are difficult to see and access. Includes double cleanse with steam, skin analysis, exfoliation, extractions, masqueing, and finishing treatment products. Ideal for men and women with all skin types.
45 Min. $45
Resurfacing Treatments:
BioActive Peel
Biologically active, biphasic peel designed to decrease surface roughness, treat acne, reduce fine lines and fade pigmentation. Utilizes Salicylic, Lactic and Trichloroacetic Acid (TCA) plus enzymes in a multiple step process.
Includes a complimentary 30 minute consult including verbal instruction, skin analysis, patch test and pre-peel homecare recommendations prior to scheduled treatment.
Single Treatment $125- (60 Min.) Series of (3) Treatments $325 Series of (6) Treatments $650 (Series purchases are final but never expire.)

Note: Prices subject to change without notice.