Call for more information or to make an appointment: 562.354.3008
Pre-Waxing Info - Post Waxing Care - Pricing
What to know before you wax back to top
Waxing is a popular option for keeping your skin smooth and hairless for weeks, but it isn't a spur-of-the-moment decision. Whether you're waxing a smaller area like your eyebrows and upper lip or you're getting a larger expanse such as your legs, back or chest waxed, your skin needs preparation to minimize your discomfort and help you achieve the best results. To make sure you're ready for your next waxing appointment, here are a few tips to help you prepare.
Skin Inspection
No matter where you're waxing, check the skin before you go in for your appointment. Broken skin or inflammation needs to heal before you're ready to wax. If you have moles or beauty marks, point them out to the Esthetician so they can be protected during the waxing process.
Let It Grow
Keep hair long enough for the wax to grip it. When the hair is too short, the wax can't pick it up well enough to remove it; when it's too long, it prevents wax from adhering and causes more pain. Two to three weeks of growth, or about a quarter of an inch, is ideal for leg, underarm and bikini hair.
Light Exfoliation
Gently exfoliate your skin a day or two before waxing, but skip harsh scrubs the day of your waxing appointment. Exfoliation helps wax grab hair and not skin, but it can also leave skin more sensitive to pain, so lighter is better. A rough washcloth is perfect for gentle exfoliation, but don't scrub too hard.
Moisturizing
Moisturize well on the days leading up to your appointment. Healthy, well-moisturized skin allows the wax to release more easily. Too much moisturizer could coat the hair and interfere with the wax's grip, so avoid moisturizing on the day of your waxing session.
The Intimate Area
Whether you prefer a Brazilian, French or regular bikini wax, keep skin in the this area scrupulously clean. Waxing can leave skin vulnerable to infection, and areas of the body that are normally warm and damp are more prone to bacterial growth.
Stop Retin-A (Vitamin A therapy)
Certain medications can sensitize skin to waxing. Retin-A creams do amazing things for fine lines, acne and uneven pigmentation, but they also leave skin susceptible to injury during waxing. Discontinue retinol-based products for two weeks before waxing. Accutane users should stop taking their medication for a month before waxing. Before making any changes to your prescription medications, talk to your dermatologist.

Post Waxing Care back to top
It's normal immediately after your wax for a little bit of redness and a prickly heat type rash to appear. This should disappear after a few hours and is normally due to a histamine reaction. Because waxing removes the hair at the root, it's important that you keep the area clean and bacteria free. This means:
– No sunbathing for at least 24 hours
– No swimming in a chlorinated pool for 24 hours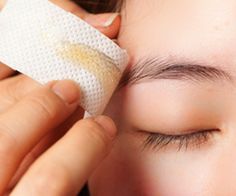 – Same for spa baths or saunas
– Avoid applying any topical lotions for at least 12 hours (fragrances, alcohol and other lubricants can cause a burning sensation)
– Also avoid touching the waxed area to ensure it remains bacteria free
– Use a tea tree oil based product to apply to the area for it's anti-bacterial qualities.
– Use 100% aloe for soothing and calming the skin.

Pricing back to top
Face

Upper Lip- $10
Chin-$10
Neck-$15
Eyebrows- From $15
Nostrils- $10
Cheeks/ Sideburns- $15
Face- From $45

Body

Underarms- $15
Forearms- $20
Full Arms- $35
Shoulders- $20
Chest- $30
Upper Back- $30
Full Back- $50
Stomach- $20
Upper Leg- $40
Lower Leg- $35
Full Leg- $65

Intimate

Bikini-$30
French- $40
Brazilian (Female)- New from $70
Brazilian (Female)- Maintenance $65
Brazilian (Male)- New from $85
Brazilian (Male)- Maintenance $80

Buttocks- $15 and up

Trimming- $10 and up